Sku:

2505KE

Vendor: Winfat
Winfun- Step-to-Play Giant Piano Mat
Tax included.
Maximum safety for your baby
IMPORTED, QUALITY PRODUCT
WINFUN- Step-to-Play Giant Piano Mat

Create Fun Tunes with this 1.8m Foot Giant Piano Mat.

Add Different Instrument Sounds and Rhythm Selections for Dance Beats.

Everyone wants to step on the big piano keys and make music.

You can start with the 25 demo songs.

It is easily to record and play back the music you make.

There are rhythm selections, special effects and 8 different instrument sounds.

So go ahead and step on it.



Features:

Piano play mat stretches to 6 feet x 2 feet (1.8m x 0.6m)
Step-on 24 giant piano keys
8 different musical instrument sounds – piano, flute, xylophone, harp, violin, trumpet, guitar and banjo
Rhythm selections to add fun dance beats
Special effects – special, vibrato and sustain effects
25 built-in demo songs
Once items are purchased, items are cleaned and sanitised, which may cause a delay in lead time.

The 5-7 business working days is the delivery time and is from the time the funds have cleared in "Shade of Grey's" account.

Items purchased on Preloved site will have imperfections and marks of use as all items are used goods.

Once an item has been received, if the seller is unhappy and wants to return this item, it can only be done within 24hrs for a refund. Simply return the product to us and we will refund you!
View full details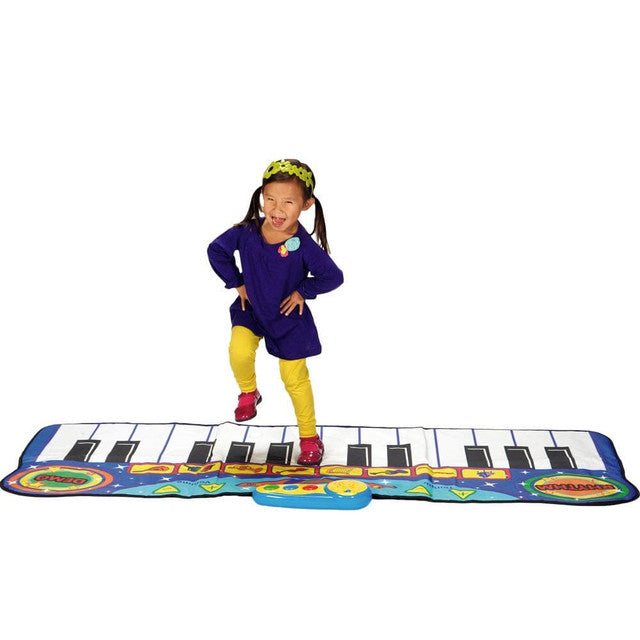 Winfun- Step-to-Play Giant Piano Mat