Cam Sempreconte Co-Bed Crib Art920-T155
Tax included.
Maximum safety for your baby
IMPORTED, QUALITY PRODUCT
Brand new

Product Description:

Take it everywhere to guarantee maximum hygiene for your baby

Product Features:

from 0 to 9 kg.
8 heights
Front drop-side for co-sleeping function
Anti-reflux position
Compatible with all types of bed
4 swivel wheels, 2 of which are fitted with a brake
Straps for fastening to the bed for the co-sleeping function
Includes: metal frame, soft mattress, soft fabric interior, 4 sides with mesh window
Optional accessories: Sempreconte bedding kit art. 922, Sempreconte mosquito net art. 929

Dimensions and weights:


Open: L 101 - W 59 - H 82/134 cm.

Folded: L 101 - W 59 - H 15 cm
10 kg.
Once items are purchased, items are cleaned and sanitised, which may cause a delay in lead time.

The 5-7 business working days is the delivery time and is from the time the funds have cleared in "Shade of Grey's" account.

Items purchased on Preloved site will have imperfections and marks of use as all items are used goods.

Once an item has been received, if the seller is unhappy and wants to return this item, it can only be done within 24hrs for a refund. Simply return the product to us and we will refund you!
View full details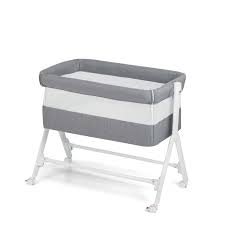 Cam Sempreconte Co-Bed Crib Art920-T155